If you've played Final Fantasy XIV for long enough, you may have already realized what the true endgame is: fashion. FFXIV has thousands of gear items to choose from, and there is no shortage of possibilities when it comes to character customization. Whether you're in the mood to dress casual and cozy, or take on the likeness of a Dark Souls boss, you'll find a way to achieve your look.
---
Glamour hunting is a great activity in Final Fantasy XIV. You can obtain clothing items a myriad of ways. The number of items you get just from playing adds up fast as you level, especially if you're playing more than one job. With limited glamour dresser space, my goal here is to list a few items that stand out and find a home in your closet.
I made sure to feature only items that are currently obtainable in-game (non cash-shop) and equippable to all genders, races, and classes starting at level 1.
Expeditioner's Pantalettes
These stylish shorts are a staple in my outfits. The cloth part is dyeable, and the leather is a neutral brown that matches most other leather items in the game. I've found them useful for providing a visual break in the middle of the body by showing a little skin. You can level up a weaver to make your own, or buy it off the market board.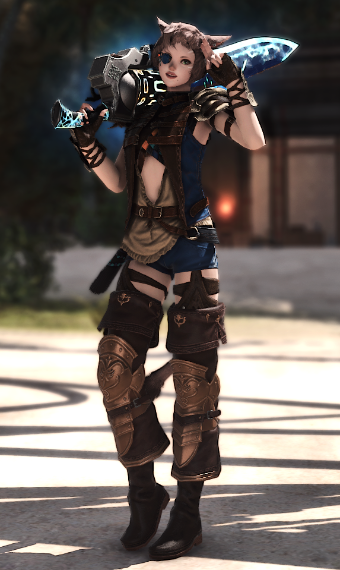 Image source: Blade's Resolve by Erin Arckanger
Horns
Horns are an excellent head piece that can completely change the attitude of your character. There are several available in-game including:
Archeodemon Horns: Drop from Eureka Pyros, market board

Ultima Horns: Obtain ٥ Proto Ultima Exoplating from the Prey Online fate and trade to Bertana in Idyllshire

Arch Demon Horns: ٧٠٠٠٠ MGP at Gold Saucer

Succubus Horns: ١٦٨٠٠ MGP at Gold Saucer

Catoblepas Horns: ٢٠٠٠٠ Wolf Marks at Wolves' Den Pier (PvP area)
Image Sources: https://ffxiv.gamerescape.com
False Nails & Claws of the Beast
These subtle hand pieces allow you to paint your nails in-game! Claws of the Beast will give you a long stiletto-style nail, and they're available for purchase at the Gold Saucer for ٣٠٠٠٠ MGP. False Nails are an oval nail shape and are awarded for doing the Ananta Beast Tribe quests. Unlock these with a quest chain in The Fringes available at level ٦٧.
Image Sources: Chic Parisian Crafter by Echo Solaris and Assassin by Era Yuri
Uraeus Coat
Practically a whole outfit in itself, this high-detail jacket looks great on both male and female characters. It's about as close as you'll get to a duster in the game currently, and works great for a bold, confident statement piece. You can craft or purchase this one on the marketboard.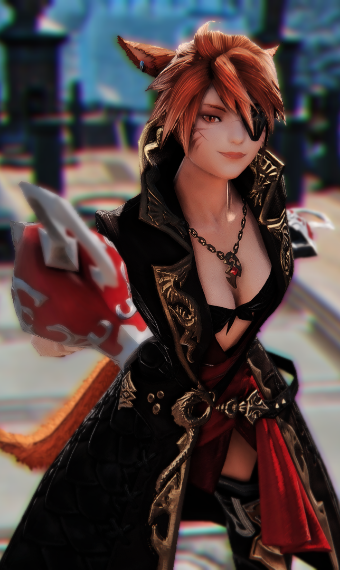 Image Source: Pirate Captain by Arsibra Therion
Urban Coat & Boots
I love these items for their versatility. They can be easily dressed up into armor or dressed down to more casual streetwear. These highly sought-after crafted items are available on the market board for a high price.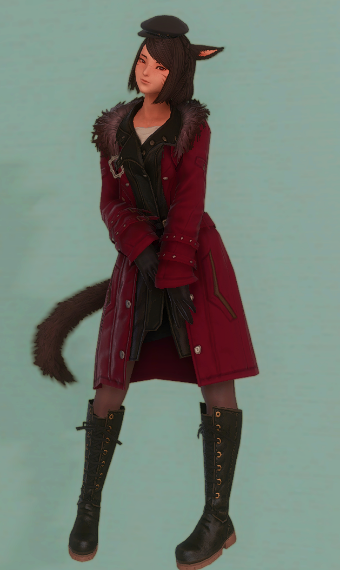 Image Source: garlic by Miva Nightbloom
Pagos Shirt
Eureka is a large-scale optional content area in the game with a ton of rewards. Part of it is a loot box system that has the possibility to give you a ton of different items. The Pagos clothing items are rewards from the Pagos Lockboxes, and the shirt is awesome. It includes a cropped top with lots of belts, bags, and even a tattoo. Thankfully, it's also available on the market board if you don't feel like grinding boxes.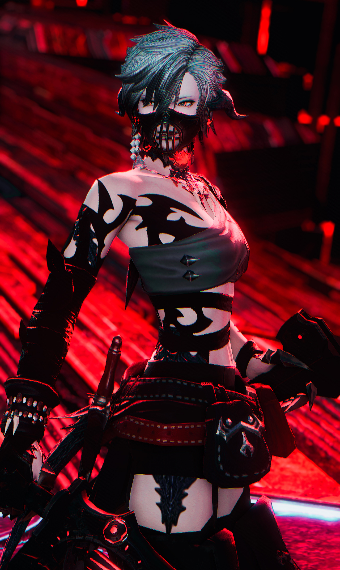 Image Source: Neo-Rabies Virus by Goelia Sarantia
Emperor's New Set
If you're familiar with the tale of The Emperor's New Clothes you may already have an inkling of what this set does. Emperor's New pieces allow your clothes to appear… invisible! In cases where you'd rather not be wearing anything in a certain slot, glamour it with one of these items and it will not show up on your character. I find this useful for when my current jewelry clashes with my clothing-only glam. Jewelry is low on my priority list as far as glamour dresser space goes, so often instead of trying to find something that matches perfectly, I'll simply hide it from view. You can buy these from NPCs Tataroga or Goberin in Mor Dhona or Western Thanalan respectively.
Crystarium Set - Gauntlets & Greaves
This set is from a level ٧٢ Main Scenario quest. I find the gauntlets and greaves from this set to be particularly useful since they are equippable by any class and resemble moderately heavy armor (which is a look that can be hard to come by for mages). They're dyeable and I use them for my battle-mage outfits often.
Augmented Rathalos Set
This Monster Hunter-inspired set is obtainable from the Smithy in Kugane after doing The New King on the Block quests (lvl.70) and beating Rathalos. These trials are very fun, and you can get some other cool Monster Hunter items along the way, including a Rathalos mount. You'll need to beat the extreme version of the trial for Rathalos Scale+ to buy the dyeable "augmented" version of this set through! Here's a Machinist outfit that features the Augmented Rathalos Boots.
Scion Traveler's Set - Boots
The Scion Traveler's Set is another you obtain from the Main Scenario at lvl.70. My favorite piece from this set is the boots. I use them to instantly add some edge to any outfit. The set is dyeable and the metal parts will change color to compliment each dye too. Check out how player Xennon Song used the boots for their glam: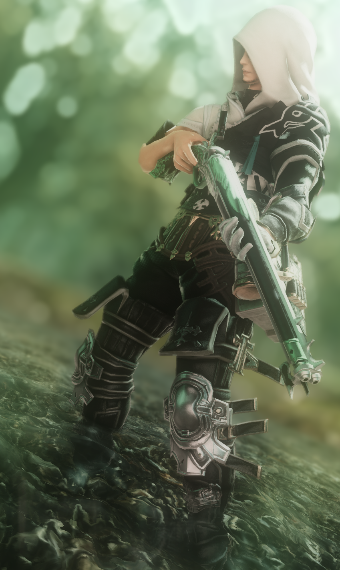 Image Source: Machinist Tracker by Xennon Song
No.2 Type B Set
The 2B set is an obvious choice and I would be remiss not to include it here. Known for its "asset-enhancing" bottoms, this set is probably one of the more common ones used for glamour. The boots are also especially popular due to the high heels on them which is another hard-to-find feature. You can get this set as a drop from The Copied Factory lvl.80 alliance raid.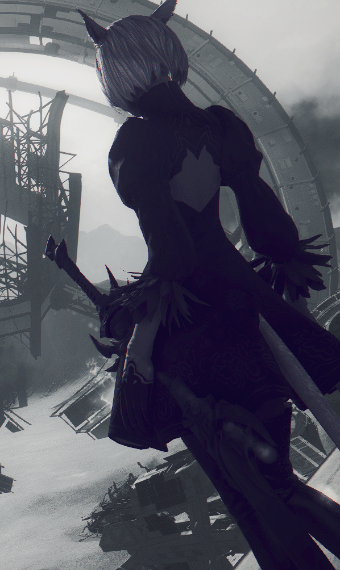 Image Source: glory to mankind by Katherine Abrinor
Thavnairian Bustier Set
Another clear choice for a list of essentials, this feminine set is perfect for dancer glams. The hand pieces can be used to replace the sleeves on any shirt to give it a new look. The tights can also be used to turn any shoes into gladiator sandals. This set was originally gender-locked to female characters but support for male characters was recently added!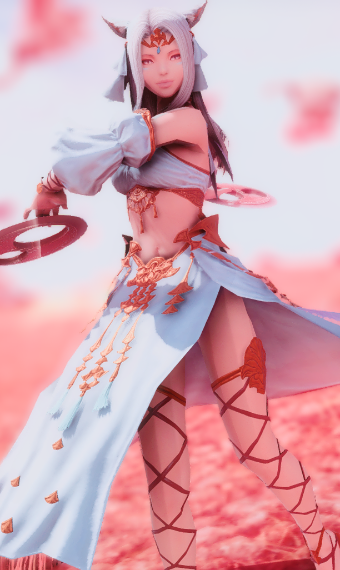 Image Source: Ala Mhigan Dance by Sweety Bell
Also check this out: